Hire Best Social Media Marketing Agency in Ranchi
In today's digital era, having a strong and impactful presence on social media platforms is a key factor in the success of any business. However, crafting and executing effective social media strategies requires expertise, time, and resources that many businesses may not possess. This is where the services of a top-notch social media marketing agency come into play. If you're based in Ranchi and looking to leverage the power of social media, this blog will help you discover the best social media marketing agencies in the city and why they stand out.
Why Choose a Social Media Marketing Agency?
Hiring a social media marketing agency can provide your business with numerous advantages, including:
Expertise: Social media marketing agencies are staffed with professionals who are well-versed in the intricacies of various platforms, algorithms, and trends.
Time and Resource Savings: Outsourcing your social media efforts to experts allows you to focus on other core aspects of your business.
Creativity: These agencies are equipped to create compelling and engaging content that resonates with your target audience.
Consistency: They ensure a consistent and regular posting schedule, which is crucial for maintaining audience engagement.
Analytics and Optimization: Social media marketing agencies analyze data to make informed decisions and optimize campaigns for better results.
Social Media Marketing Agencies in Ranchi:
DigiCrow:
DigiCrow has established itself as a premier social media marketing agency in Ranchi. With a team of experienced professionals, they offer strategic planning, creative content creation, and data-driven optimization. DigiCrow's client-centric approach ensures that each strategy is customized to meet the unique needs of their clients. From startups to established businesses, DigiCrow's expertise has yielded remarkable results, making them a go-to choice for businesses seeking to elevate their social media presence.
Read Also: Proven Strategies to Optimize On-Page SEO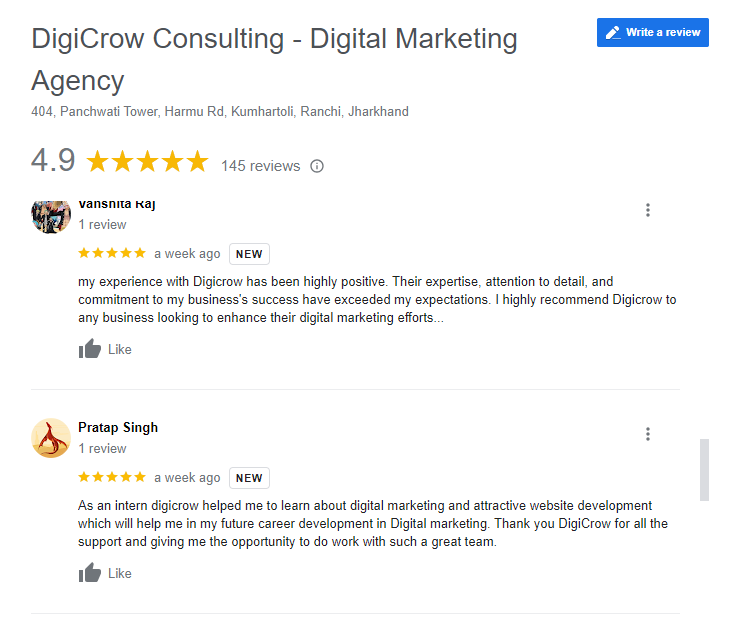 SocialWave:
SocialWave is another prominent player in the Ranchi social media marketing landscape. Known for their innovative campaigns and attention-grabbing content, SocialWave helps businesses carve a distinct identity in the online world. Their hands-on approach, coupled with their knack for storytelling, has garnered them a loyal clientele. SocialWave's ability to seamlessly blend creativity with strategy has made them a preferred agency for businesses looking to make a significant impact on social media.
RanchiBuzz Digital:
RanchiBuzz Digital is a local gem that specializes in providing tailored social media solutions. Their team's local insights and understanding of the Ranchi market make them a valuable partner for businesses seeking to establish a strong regional presence. RanchiBuzz Digital's commitment to keeping up with the latest trends ensures that their clients are always ahead of the curve. Their track record of delivering results has solidified their reputation as a dependable social media marketing agency.
DigitalDynamos:
DigitalDynamos boasts a dynamic team that combines creativity with analytical prowess. From crafting visually appealing graphics to developing comprehensive social media strategies, they cover all aspects of digital marketing. Digital Dynamos' data-driven approach ensures that their campaigns are optimized for maximum engagement and conversions. Their knack for delivering measurable results makes them a sought-after agency for businesses of all sizes.
BrandReach:
BrandReach is known for its holistic approach to social media marketing. They focus on building meaningful connections between brands and their target audience. BrandReach believes that authenticity is key to social media success, and they strive to create genuine interactions that resonate with users. From influencer collaborations to engaging content calendars, their strategies are designed to leave a lasting impact.
In a digital landscape that's constantly evolving, enlisting the services of a proficient social media marketing agency can give your business a competitive edge. The best agencies in Ranchi, including DigiCrow, SocialWave, RanchiBuzz Digital, DigitalDynamos, and BrandReach, have demonstrated their ability to craft effective strategies, deliver engaging content, and drive real results.